By Meg
well kids, this weekend i spent another six bucks for a couple hours of entertainment (it's better than that $3.99/minute stuff hehehe j/k!!) my friend jess and i decided to go to Great Expectations starring ethan hawke, gweyneth paltrow, anne bancroft and robert deniro. it is based on the dickens classic of a love which evolves over time.

it is set in florida (on the gulf of mexico) and later moves to new york city. it begins with finn (finnegan, played by hawke) trying to get by with little money, living with his older sister and his uncle joe. finn and his uncle get a call to do a gardening job from the richest lady on the gulf, portrayed by bancroft. she does an excellent performance as a woman whose heart was broken while she wait at the altar for her groom, who never showed. her niece, estella (paltrow), notices finn waiting for joe to return. bancroft calls the house later that day and requests finn to play with estella. bancroft teaches them to dance which is the basis of their relationship. they grow up together and develop a "semi" love affair, finn feeling everything for estella but her not wanting anything. she leaves to study abroad without telling finn, whose heart is now aching. he cannot do his art anymore, for she was the driving force behind it. he is eventually approached by a new york artist asking him to do a show for her. he moves to new york only to run into estella. their romance develops once again, only to be shot down by her acceptance of a marriage proposal by another...

this seems like the end for finn, who goes once again to visit his somewhat of a mentor, bancroft. she sees how his heart is broken and apologizes, for she raised estella to fear men due to her misfortune at the altar...

i shall not tell you the ending, but it is very good and somewhat of a surprise...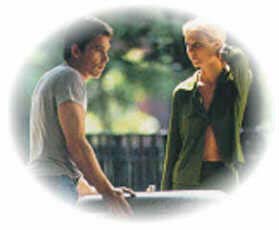 deniro plays a major part in the film, yet his actual screentime is probably about...15 minutes? maybe a little more, but not much. he brings a wonderful element of surprise to the film.
light comedy is added throughout, mostly from bancroft as the crazy old lady she has become. it is mostly a romance film, though...yet anyone can enjoy and appreciate it's message: the sometimes high cost of a happy ending.
all the actors do a very good job...making the film very believable and worthy of recognition. although some parts seem to be drug out, it is an overall well done movie.
i would highly recommend it to everyone =)
until next week...
don't forget the popcorn! hehehe
Mail Meg
[HOME]